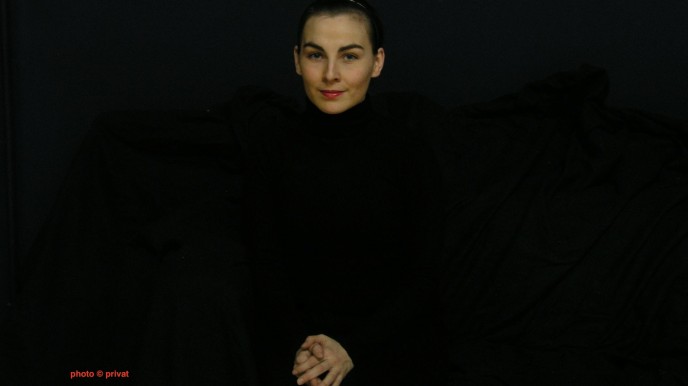 The works in which I am involved as a director are mostly collaborations, and collective creations that I have
independently co-produced. I am working with site-specific forms and with more classical theatre setups
Intimacy, a very personal involvement of the performers, and a strong focus on physicality mark most of my work.
I'm specially interested in diversity and decolonial perspectives.
. . . .
PROJECTS
meet MIMOSA is a performance-collective, that deals with the state we experience, when our perception of the self or the world is shaken. The project adds to critical academic discourses with movement, poetry and human presence. It has been initiated by Eva Isolde Balzer and is developed in collaboration with Laura Werres, André Vollrath and others. The work develops in a collective process and supports process-oriented creation of knowledge. blank2:ich weiß  (2011) was the first creation of the collective. It started a series of work that explores the emotional aspects of white privilege in Germany. The current performance of the series is blank:wer_weiß?  (supported by Bezirkskulturfonds Schöneberg).  The project  "Earthport"  (2016, supported by Szenenwechsel, a program of Robert Bosch Foundation and International Theatre Institute and Bezirkiskulturfonds Kreuzberg ) is a human specific one-on-one performance. The collaboration with the Egyptian Theatre  "Lamusica Independent Theatre Group" has been co-directed and produced by Eva Isolde Balzer and Nora Amin.
blank2:ich weIß is a performance-"collage" about the experience with white privilege in Germany and the path of self-critical recognition of the own position. The work penetrates the discourse of Critical Whiteness emotionally, physically and poetically. It travels along the concept of "ego-defense-mechanisms", as described by Paul Gilroy and taken up by Berlin based writers/activists, including Grada Kilomba in her book "Plantation Memories". Those mechanisms are: denial, guilt, shame, recognition and reparation. "blank2:ich weiß" is an independent production by "the tremor art project". It is performed by white Germans André Vollrath and Laura Werres and directed by white German Eva Isolde Balzer.  Dramaturgical Assistance: Sharon Dodua Otoo.
for more information: www.meet-mimosa.net
Earthport is an intercultural experiment to shift borders, transgress labels and recreate a healing connection through performance. for more information: http://earthport-project.blogspot.de
_____________________________________________________________________________________________
BalzerStoyanova, a project with Barcelona based performance artist Maria Stoyanova.  BalzerStoyanova creates human specific installations.  The main project of BalzerStoyanova is: HOPE- HUMAN INSTALLATION.
HOPE – Human Installation has been performed in 3 versions in Berlin and Barcelona, featuring more than 35 artists from 9 countries, lasting from 5 to 48 hours and in site specific as well as more traditional spaces. It has been experienced by several thousands of spectators. 
HOPE – Human Installation connects artists of different disciplines in a human installation of long duration. It combines individual interactions of one performer&one spectator with a structure in which the members of the audience move and observe freely. The distinction performer-spectator is shaken. HOPE – Human Installation is a ritual which consists of very personal performances which take place simultaneously over the full duration of the performance. It unites in every performance different artists – local performers or performers from the team of BalzerStoyanova – professionals or in specific setups students or amateurs.
HOPE was performed at Uferstudios/Berlin April 2011, 48 Stunden Neukölln/Berlin July 2011, and at Antic Theatre, Barcelona, Mai 2011.
For trailers click here:
 For more information:
 _____________________________________________________________________________________________
DNA (2009+)is an intimate autobiographical performance which was directed and performed by Monika Wachowitz, Karolina Pietrzykowska and Eva Isolde Balzer as the performance group KoME. It was created in collaboration with Cantabile2 and was invited through the  residency-program DIVA of the Danish Ministry of Culture. It premiered in 2009 in Denmark and has been performed in different cities in festivals in Germany, Denmark and Poland.
DNA is based on three actresses' personal life experiences. They all share their intimate views they hold about themselves, their mothers and their grandmothers, with spectators, using story telling, physical theatre and ritual theatre as tools. It consists of 3 stories, 3 specific conversations each actress has with her mother, initiated by a letter each actress reads to her mother, telling her things, she has never told her before…Conversations that become one greater dialogue and exchange with the Mother and the World. The spectator is a witness, a welcomed guest and sometimes an assistant or an accomplice. In spectators' privileged position they may take a glance at what usually remains hidden. The space hosting the performance is an empty garden of tomatoes, filled with  the actresses' presence and minimal props…It is supported and transformed by music and light which are run by the actresses themselves. The production of the piece was further enhanced by a dynamic which is created through the sharing and shifting of the roles of author, director, stage-, costume- and light-designer.
DNA was performed at Theaterlabor Bielefeld/Germany,  Vordingborg, Copenhagen and Ballerup/Denmark and Kattowice(Festival APart),Bencin, Krakow, Polcin /Poland
click here to see the trailer: KoME
_____________________________________________________________________________________________
Hybrid Identities (2010) Is a site-specific research dance-theatre project that has been concepted and directed by Eva Isolde Balzer in collaboration with Mi Zhou and co-choreographed by Johanna Devi. The music was composed by Robin Storey.
Hybrid Identities is the personal exploration by two dancers of their training in two very different styles: classical Indian and contemporary European dance/theatre. The work is looking for the permeability of imagined cultural borders and questions the designation of forms as culturally "own" and "foreign". Four loosely connected episodes form the work, staged in 3 different spaces within the Rathaus Schöneberg.
_____________________________________________________________________________________________
Haiku  is a performance by the Danish Theatre Cantabile2, directed by
Nullo Facchini, assisted by Eva Isolde Balzer.
For Trailer and more information click here: Cantabile2/HAIKU
Eva Isolde Balzer also assisted in the Venus Labyrinth. For more information click here "intimate performance"